China - Jan 2007
The Diary
Pics page 1 : Baiyin
Pics page 2 : Baotou
Pics page 3 : Huludao
Pics page 4 : Factory 701
Pics page 5 : Jixi and Tiefa *****
Pics page 6 : JalaiNur
Home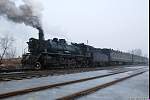 Ice skating on the Tiefa system

Grand departure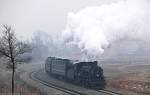 The birds scatter in the misty coolness

There is a neat coaling and watering area opposite the main station at Tiefa for the remaining locos

Dragon ladies block the gates at Tiefa

Steam action at Tiefa - SY departing at left, preserved YJ at right

Tickets please!

Preserved american KD6 running an excursion on the Faku line, which has been dieselised for a while

And again

And again! bursting from the tunnel on the line

Back at the main station, the locos refresh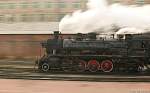 Departure from Tiefa

Out at the mines, diesels now handle all the coal trains, leaving the substantial number of passenger trains to the handful of active SYs

Out by the Church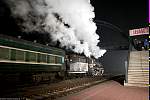 Night shooting with Ron Olsen's flashes

The YJ gets a headlight bulb replaced

Serenity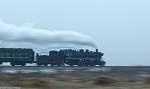 Next morning we're out by the church again watching the YJ on a special run

While the SYs continue to toil on the regular passengers

1999 build plate on SY 1771, which is stored with many, many, many SYs in covered storage at Tiefa workshops

The YJ again out for a run

Nicely attired SY 1770 on one of the passenger trains

Jean-Philippe makes a minor technical adjustment to his video camera with a sledgehammer

And lastly, SY1772, the last SY assembled, heads out on the Faku line
---
Jixi
---

After arrival at the Jixi system,

Coal mines are painted pink, not that there's anything wrong with that, and the motorbikes have built in hand warmers

A well decorated SY

Shunting at the main yard

A tough life

The sun goes down at Jixi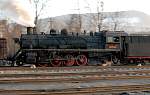 Wheelspin

Next morning we catch a crewmember making some adjustments on the air pump of his steed
Big power with a pair of SYs thumping empties out to the mines

Another train of empties with an SY at either end

The same train again

Crossings

Another train banked at the rear slogs up to another mine on the system

the pusher on the above train

Whoops. DB too slow to catch the loco running by on the line behind

View out from above somewhere

I really can't remember the names of any of these lines, can I...

Running back past the cornfields

The dentist at the Didao mine (ha remembered a place!)

Didao has this interesting narrow gauge electric tramway for shuffling spoil and coal around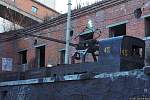 Playing with the pantograph

Loading at the bin

Next morning, we wait by the Chengzihe washery complex for shots but DB screws everything up by being in the right place at the wrong time and vice versa.
Out of the sun towards the washery in the shot I'd waited a couple of hours for but now the sun is a bit high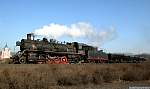 With an interesting church in the background

Up the hill at the Didao spoil dump, strings of empties are rope hauled up the incline and run down into a curved unloading spur. After running through the tippler, they congregate on the lower curved track for a run back downhill
The loaded rake is swarmed by locals in search of coal remnants. Avast, landlubbers, arrrr!

Searching for goodies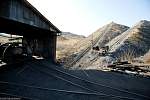 The tippler complex and two further inclines up to the spoil dumps

The tippler building. After tipping, the coal truck runs toward the camera down a slope, across spring loaded points and up a grade, it then swings downhill and takes the points to the left where it joins the other empty bins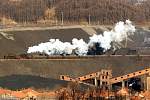 After a long wait up the incline we finally glimpse a train arriving at the coal dump
The Diary
Pics page 1 : Baiyin
Pics page 2 : Baotou
Pics page 3 : Huludao
Pics page 4 : Factory 701
Pics page 5 : Jixi and Tiefa *****
Pics page 6 : JalaiNur
Home