China - Jan 2007
The Diary
Pics page 1 : Baiyin
Pics page 2 : Baotou
Pics page 3 : Huludao
Pics page 4 : Factory 701
Pics page 5 : Jixi and Tiefa
Pics page 6 : JalaiNur ****
Home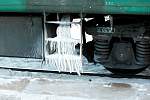 Brrrrr. Arrival at JalaiNur in the early morning

The wee passenger train

The effects of 20 minutes in the -28 degree C cold

Steam from water dribbles

Taking a snack in train control

The view from a disused washery

Standing on the edge of the bathtub

Big smiles as the shift is over

The washery part way down the pit

Frozen waterfalls of ice

Kaboom! Don't stand too close!

The safety of an SY

Loading up with one of the big orange Tonka Toys

Inside the cab of one of the JalaiNur SYs - note the shower head at the top of the picture

Room with a view

Pit action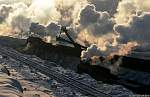 An orange dinosaur filling up wagons with overburden

A loaded train steams up the steep track to an upper level

Zig-zagging up to the top of the pit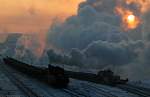 Shuffling at sunset

After the sun sets, an eerie mood settles on the pit

The next morning we wait topside for some action as a loco shunts up the line

After what seems like an eternity, our train punches uphill through a tranquil scene

The bar where stalagmites and stalactites meet.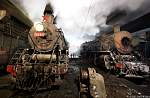 A couple of SYs are undergoing light overhauls at the shops

Brrrrrr...


Loaded up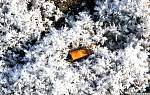 Butt in the icicles

At our final stop we watch an SY running through the village scene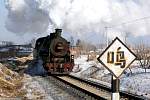 That sign is cunningly hiding some people with cameras. And then it's all over...!

Officially unlicensed Disney JimiMina Mouse merchandise

Waiting at the station

The road to Beijing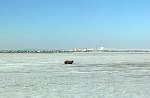 Wide open spaces

Dragon Lady servers in the dining car

A massive emptiness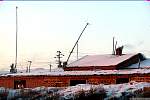 Leaning TV aerials

Chinese snow shoes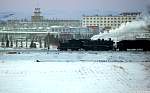 Steaming survivor SY 1307 at Dayan as viewed from the train
The Diary
Pics page 1 : Baiyin
Pics page 2 : Baotou
Pics page 3 : Huludao
Pics page 4 : Factory 701
Pics page 5 : Jixi and Tiefa
Pics page 6 : JalaiNur ****
Home