China - Jan 2007
The Diary
Pics page 1 : Baiyin
Pics page 2 : Baotou
Pics page 3 : Huludao
Pics page 4 : Factory 701 ****
Pics page 5 : Jixi and Tiefa
Pics page 6 : JalaiNur
Home

JS 8162, the Factory 701 shunter, puts on a show for us

The Secret Facility

Into the gloom

Another runby

The view from the hill as the line mysteriously zig-zags up to the tunnel complex. Two QJs stored at left
Train nerds in action. Or is that 'inaction'. Note rare use of human tripod at left

Shuffling the third QJ around. Sad to see these beasts languishing so...

Everyone pauses for breath after the excitement of seeing a QJ turning a wheel

8162 enters the surreal tunnel complex

The main lifting hall in the upper tunnel

Lathes in a perpendicular tunnel. This is probably what the bowels of the Death Star look like too

Turning wheel centers

In the upper tunnel

About to head out into the far side of the complex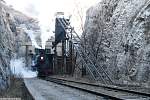 ...which is basically countryside

View from the fun end of 8162

After running down a steep grade, the JS backs into the lower tunnel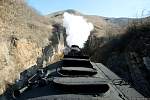 The view coming out of the lower tunnel

Cold QJ footplate

Will she run again?

Nanpiao
The Diary
Pics page 1 : Baiyin
Pics page 2 : Baotou
Pics page 3 : Huludao
Pics page 4 : Factory 701 ****
Pics page 5 : Jixi and Tiefa
Pics page 6 : JalaiNur
Home