China - Jan 2007
The Diary
Pics page 1 : Baiyin***
Pics page 2 : Baotou
Pics page 3 : Huludao
Pics page 4 : Factory 701
Pics page 5 : Jixi and Tiefa
Pics page 6 : JalaiNur
Home

Early morning sees us fortified with a bag of warm dumplings as we wait for the passenger train to depart Baiyin

A big blurry departure before sunrise

After a long and bumpy ride (for us!) we catch the passenger approaching Shenbutong

Loaded wagons at Shenbutong

Poles everywhere

Layover between trains

Shenbutong departure

The pagoda on the hill

Pointless valve!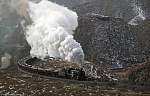 Shot of the day in the Loess Mountains
Wide shot from the same location - quite a panoramic spot

The end of the line at Kuangsan

The lead smelter at Sanyelan

Clean food anyway

Our bus driver enjoying some of that mysterious herbal tea

Mmmm, noodle soop/soup with bits of things

A late afternoon passenger heads uphill

Grab shot at Liugongli

Slag tipping at night at Baiyin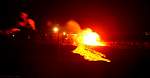 That is pretty groovy to watch at night...

Another morning, another passenger train. The upper line is no longer in use

From the same location

Train control at Shenbutong

A bit of colour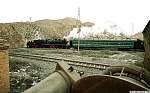 Sanyelan

SY 2008 (real number 0701) undergoing heavy overhaul at the Baiyin shops. Wonder if they'll paint her up Union Pacific Salt Lake City style?!

Cleaning around the pony truck of SY 1583

A transfer blasts past the shops

The leading truck of 2008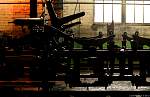 Nice clean frame. Reminds me of my DG bogie..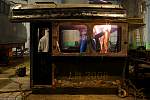 Cab repairs on 2008

A technician overhauls a generator

Welding tubes in 2008's boiler

An overview of the shop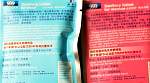 R18: anatomically incorrect blue packet.
The Diary
Pics page 1 : Baiyin ****
Pics page 2 : Baotou
Pics page 3 : Huludao
Pics page 4 : Factory 701
Pics page 5 : Jixi and Tiefa
Pics page 6 : JalaiNur
Home