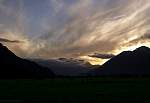 This shot near Inchbonnie from the previous trip fails to qualify as a sunset shot so I think we'll call it "moody" instead. Stop looking for the train, there isn't one.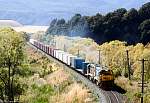 31 March. I've missed the KR locos on 842 so wait around for Mike Kilsby, playing offside east of the divide, heading the Hoki train west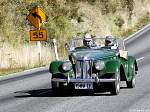 I'm not piloting the only piece of noisy old green English machinery running over the hill this morning
However the next fellow, who's come this far via riverbeds and mountaintops, makes the Mini's scampering over the hillside look positively pedestrian.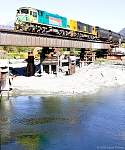 Bah. More mismatched nonsense at Te Kinga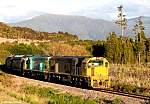 And more into Moana. I'm not normally one for dabbling in the reality distortion cults, but must admit that quite a few poles were eradicated from this picture. Had to do something to recover this shot. Sorry about the lighting.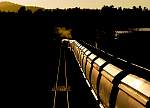 The same train departing Moana after a crossing with 846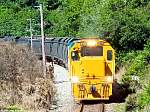 Next morning the weather is perfect but the KR locos have been replaced with not only odd-socks, but dirty odd-socks at that. At least DX 5327 almost hides the trailing snotbonnet with its nice clean nose, picked up after an altercation late last year. Note how it contrasts with the putrid shade of faded vomit on the Toll loco.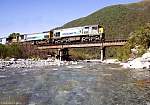 804 approaches Otira after the crossing at Jacksons. Much to the amusement of the Ontrackers carrying out some remedial work on this wee bridge, I had the tripod set right down in the water with me sitting next to it on a handy dry rock. The DC was popped exactly as planned, but wouldn't have minded getting a little more train in... Perhaps when nobody is looking I'll Photoshop a carriage in... Lucky to get the blues though instead of the dirty green grub that was in our Premier Tourist Train's previous loco allocation.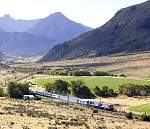 After a slow trip over the hill during peak roadworks season, a rapid vertical amble is required to get up the hill above Cass in time.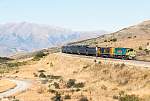 And a short while later, a rare visit to one of the classic spots on the The Cass Bank nets empty 841. And that's that then